The
Tony Hawk's Pro Skater
series goes down in history as one of the most successful video game franchises ever. Pro Skater 2 is recognized as the second best video game of all time by Metacritic. The series impacted skateboarding and lifted the industry to an all time high. It inspired people to skate all across the globe.
Pretending I'm a Superman
examines the untold story of the team of developers and skaters that created the series and the cultural phenomenon that ensued.

In the early 1990s, the skateboard industry went through a major crisis. The popularity of the sport was on the decline and the certainty of its future was unknown. Just a few years later, that was about to change, when the X-Games came into play. In August 1999 skateboarding found itself on a new rise when Tony Hawk's Pro Skater was released for the Playstation and sold 9 million copies worldwide. What followed was a franchise, which resulted in 18 games over the course of 16 years. Over 30 million copies of the Tony Hawk games were sold and skateboarding had suddenly become more popular than ever in the early 2000s. It was on TV, it was in toy stores, and finally it was on video game store shelves.
Pretending I'm a Superman
, the first ever feature-length documentary on the Tony Hawk games, covers the entire history of the series from start to finish. The idea of the game itself, originated from the Hawkman, who pitched a skateboarding game for many years, but was frequently rejected by major game publishers. Simultaneously, in 1997, Activision had begun developing a game based on the sport and was looking for a star to represent it. That star became Tony Hawk, who instantly fell in love with the engine designed by Neversoft and agreed to work on what was originally a low-budget game, expected to make little to no profit. The rest is history.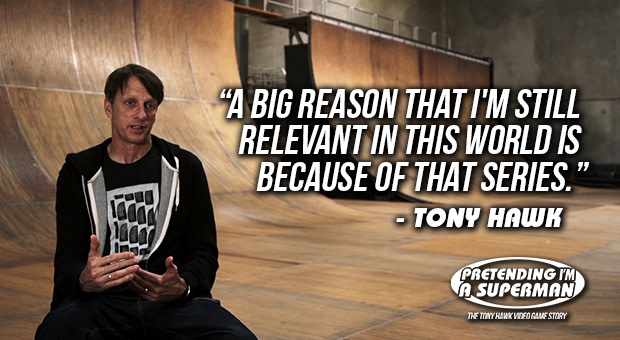 Tony Hawk
is the name behind the franchise and perhaps the biggest legend in skateboarding of all-time. His involvement affected the games greatly as he had to give Neversoft a course in skateboarding. Few of the developers had any background in skating.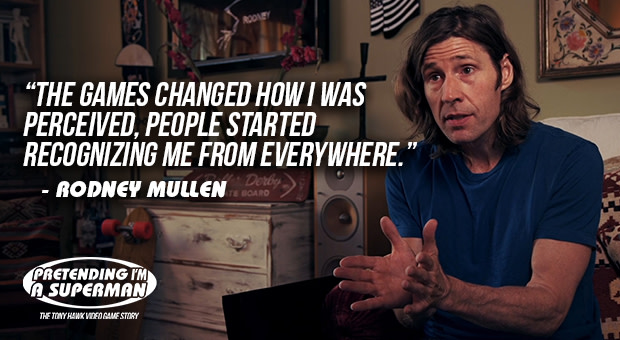 Rodney Mullen
is the godfather of street-skateboarding and holds the world record for inventing the most street skateboarding tricks. He made his first game appearance in Tony Hawk's Pro Skater 2 and introduced the concept of flatland skateboarding to Neversoft. This resulted in the giant expansion of tricks. Since then, he has been featured in every Tony Hawk game designed by Neversoft.
According to the Tony Hawk's Instagram page, the documentary will be premired on February 29th.